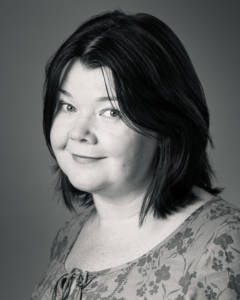 My name is Helen Callaghan and I write fiction whenever I'm left unsupervised. I live in Cambridge amongst teetering piles of books.
I've always written, it's my one constant. I was at various points a student nurse, barmaid and drama student. Eventually I settled into bookselling, working as a fiction specialist and buyer for a variety of bookshops, and did that for nearly ten years. In the end I became restless and studied for A-levels at night school. I achieved a place at Cambridge University as a mature student, where I studied Archaeology.
When I'm not writing fiction I write technical documentation for IT companies, which is every bit as thrilling as it sounds.
I also keep a blog, available on this site. The blog is about my writing; including my thoughts on the things I read and see, some digressions on cool little nuggets that come up in the research (I experiment a fair bit with medieval cookery), and any other stratagem I can employ to waste the world's time. You can also find me on Facebook and Twitter.
My debut novel, Dear Amy, is published by Michael Joseph and available now. My forthcoming novel, Everything Is Lies, is being published by them on February 22nd, 2018.
I am represented by Judith Murray at Greene and Heaton Ltd.
Thanks so much for visiting, and please enjoy the site!