Something I've wanted to do for a while is bake with beremeal.
Bere is a six-row barley that is now only grown on remote Scottish islands, where it is used for baking and brewing. It may have been brought over by the Vikings in the 9th Century, or may have been already here. In any case, it is considered the oldest cereal still cultivated in Britain.
You can buy beremeal (ground bere) from a few specialty outlets, such as Judith Glue who offer it as part of a hamper. I bought mine online from Real Foods, an organic foods seller based in Edinburgh.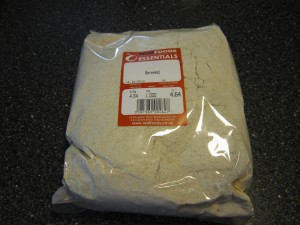 The meal itself is pale brown with darker specks, ground fine. When you dab your finger in it it tastes like a sharper, nuttier oat bran; quite distinctive as flours go, with tiny flecks of fibre in it.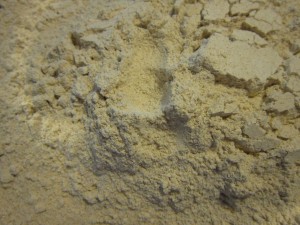 Most beremeal in the UK is grown on the Orkneys and the Shetlands and much of it is ground at Barony Mills in Orkney, which is supported by the Birsay Heritage Trust. It's their recipe for biscuits that I'm going to bake today. J. Scott at Chocolate Cottage, Birsay, on Orkney sent in the recipe. You can find it on their website.
I had these biscuits at the Skara Brae tea shop and they were lovely. Just the thing to go with a hot cup of tea after facing the biting sea winds and deep snows of Skara Brae in wintertime: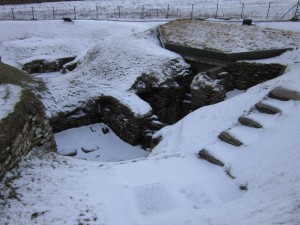 I was initially skeptical of this recipe, as this seems like an awful lot of self-raising flour in comparison to the amount of beremeal involved. On the other hand, with its fruit and artificial leaveners I think trying to be more "authentic" here is a lost cause.
Anyway, I fancy a taste of Orkney, and the beremeal has been sitting around waiting for me, so let's get to it.
Baking Beremeal Birsay Biscuits
You'll need:
340g self-raising flour
115g beremeal
225g castor sugar
225g butter
175g sultanas
1 egg
A good pinch of salt
For this recipe I converted everything to metric, because that's how I roll. I also used butter instead of margarine because gnah, pah, urrgh, yuck, no thank you.
The recipe calls for 350° F so with my fan-assisted oven I'm going for 170° C. So, preheat your oven and weigh out your ingredients.
Cream the butter and sugar together. This seemed a lot of butter to me, but hey-ho, nothing ventured nothing gained, including inches on your waistline: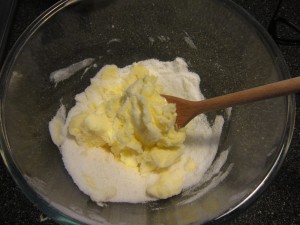 Then sieve in the beremeal (which has a very distinct, wheatgermy smell):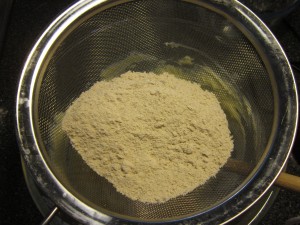 Then sieve in the rest of the flour, and the sultanas: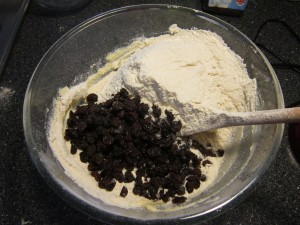 Give this a stir (it seemed alarming dry at first) before cracking the egg in: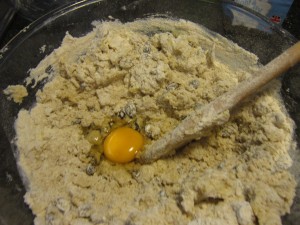 Knead the rest of the dough with your hands until it seems one continuous mass: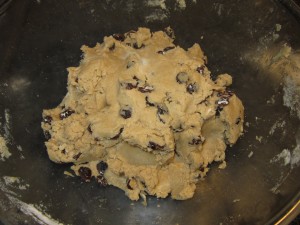 Dust a clean surface and a rolling pin with flour and roll out your dough into a sheet – I went about 1cm thick. I don't have a biscuit cutter and am not going to buy one, because I am already drowning in clutter here in my tiny flat, so I decided to make the biscuits in the shape of Orkney flags, which is reaching my uppermost limit for whimsy but at least should be easy.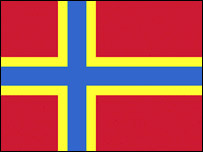 Oh, famous last words: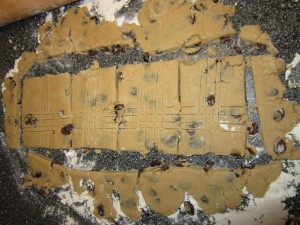 The fruit kept catching in the knife and making everything ragged and uneven. The dough, though moist, is quite flaky and in the end I just caved and used a mug lip to cut out circles for the rest of the biscuits.
Next, put them on a greased baking tray (I have a sheet of Bake-o-glide which I couldn't live without) and pop them in the oven for 16-18 minutes.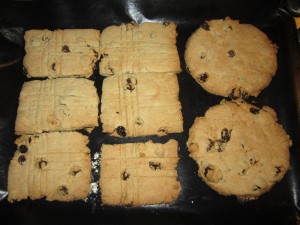 When they have turned more brown (they never go a proper golden brown, so you want somewhere in the continuum between pale and burnt) take them out and cool them on a wire tray: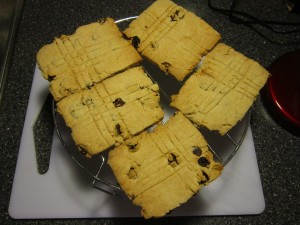 They will go crispy now, so put the kettle on and prepare to kick back with a film. Mine today will be Blancanieves, but it's cool, you can choose any film you want. I promise not to judge you.
Finally, put the biscuits on a plate under a kitchen towel and take a photo of them. Do this as opposed to snarfling them all down by the stoveside like you usually do and then professing to know nothing of their fate when questioned:
And look! Orkney flag!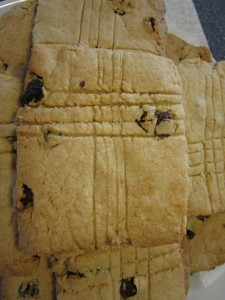 Were they nice?
Lovely, but very filling – a lot like shortbread. I only ate two in the end before realizing that I was in danger of ruining my dinner. Considering how much butter and sugar was involved, they were neither too sweet nor too greasy and weren't as cloying as shortbread usually is. While the strong taste of the bere was muted, it was still nutty and pleasant.
They didn't necessarily make me feel like I wanted to jump in a longship and slay and pillage, but I'm now properly excited about making the beer bannocks. These are griddle-cooked breads traditionally consumed with butter, cheese, and Orkney ale. Yum. More about them later…